Invisalign® Clear Braces
INVISALIGN® CLEAR BRACES FOR TEENS AND ADULTS
Older teens and adults who exhibit misaligned teeth, or malocclusion, may wish to correct their smiles, but may also hesitate at the prospect of wearing metal braces. Fortunately, many patients can enjoy the best of both worlds with Invisalign® Clear Braces. Made from nearly invisible aligners instead of brackets and wires, Invisalign® simplifies the process of teeth-straightening to make your treatment more discreet and more comfortable than metal braces. To find out if Invisalign® can help you achieve a straighter smile without traditional braces, schedule a visit with Dr. Keelan by calling our office today.
How Invisalign® Corrects Smiles
The science of orthodontics, or correcting misaligned teeth, requires the application of gentle, continuous pressure to carefully move teeth. Braces accomplish this movement through brackets attached to teeth, and arch wires that an orthodontist periodically tightens. By contrast, Invisalign® describes a series of strategically designed aligners that gradually guide teeth through a prescribed path of movement. The aligners are designed as a series and are changed every couple of weeks. However, you will not have to visit our office for every aligner change, or as frequently as you would have to with conventional braces.
Questions About Invisalign®
Is Invisalign® for everyone?
Invisalign® is an excellent choice for correcting many cases of crowding or spacing of the teeth.  One of the most frequent uses of Invisalign® is for adults who had braces as a child but are now experiencing crowding of their lower front teeth.  While there will always be cases where traditional orthodontics are the best treatment choices, many patients are surprised to learn how often Invisalign® is an excellent treatment option for them.
What are the benefits of Invisalign®?
The most noticeable benefits of Invisalign® include;
Greater confidence during treatment (the aligners are virtually invisible)
Easier maintenance and hygiene (the aligners can be removed for cleaning and for brushing your teeth)
No major changes to your diet (the aligners can also be removed before eating)
Greater comfort (there are no brackets and wires to jut out and scrape soft oral tissues)
---
I can always expect to get the highest quality services at Keelan Dental from all the staff. You know you are in good hands from the time you walk in until the time you leave. The atmosphere is calm and professional every time. I'm sure glad I found this Dental Office.
– Janet A.

---
Related Orthodontic Articles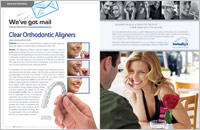 Clear Orthodontic Aligners
The orthodontic treatment using clear aligners consists of a series of aligners that you change about every two weeks over a course of treatment lasting six to eighteen months depending on how much movement is needed… Read Article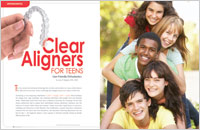 Clear Aligners for Teenagers
Teens who regard traditional braces as restrictive, confining, and obstructive to their lifestyles now have another choice for orthodontic treatment: clear aligners. This advanced dental technology, originally geared toward adults, has recently evolved to treat a greater variety of bite problems in younger people. These improved orthodontic appliances can help teens function normally during a difficult phase of life… Read Article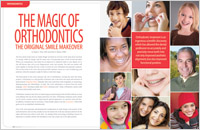 The Magic of Orthodontics
Proper alignment of the teeth is basic to "Smile Design." Their position dictates how they work together and affects the way you look and smile. Only orthodontic treatment can move teeth into the right position. Simply put, when things look right, they probably are right. Learn the basics of smile analysis and design and whether the magic of orthodontics will work for you… Read Article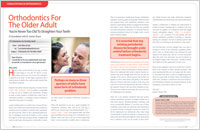 Orthodontics for the Older Adult
Healthy teeth can be moved at any age, so there's no such thing as "too old" for braces. In fact, nowadays about one out of every five orthodontic patients is an adult. Yet this figure represents only a small portion of adults who could actually benefit from orthodontic treatment… Read Article
Straighter Teeth, No Braces with Invisalign®!
Enjoy a more attractive smile and a more functional bite without relying on cumbersome metal braces!  To find out if you qualify for Invisalign®, call our dental office in Butler, PA today at (724) 285-4153. Our Smile Certified experts happily serve patients from Butler, Cranberry Township, Mars, Pittsburgh, Butler County, and all surrounding communities.