Cosmetic Dentistry
THE SMILE YOU WANT WITH COSMETIC DENTISTRY
There is a wide variety of issues that can affect your smile's appearance without seriously threatening your dental health. For instance, teeth stains can develop even when you keep your teeth meticulously clean, and accidents can cause teeth to chip, or develop minor surface cracks (craze lines). Your teeth can also grow slightly out of alignment through no fault of your own, or two or more teeth may have a noticeable space between them (a diastema). If you wish to improve these or other aspects of your smile's appearance, Dr. Keelan can recommend an appropriate cosmetic dental treatment to help create the smile you want.
Custom Smile Enhancement
Whether your teeth are stained, chipped, slightly misshaped, spaced oddly, out of alignment, or more, we offer a customized, conservative treatment plan to help you improve your smile. Depending on your smile's exact needs, we may recommend one or a combination of cosmetic treatments.
Benefits of Cosmetic Dentistry
Besides the visual benefits of a more attractive smile, and the improved self-confidence that accompanies it, many cosmetic dental plans also improve your smile's health and function. For instance, fixing a chipped tooth with dental bonding or a porcelain veneer can reduce the tooth's risk of further damage. Also, straightening crooked teeth with Invisalign® will improve your bite's balance, which lowers your risks of developing bruxism or TMJ disorder.
---
All I can say is that I never thought I would look forward to going back to the dentist. Thanks to all of you for making me feel so well cared for…
– Amanda M.

---
Related Cosmetic Dentistry Articles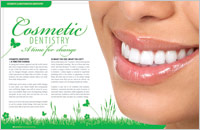 Cosmetic Dentistry – A Time For Change
Join us as we review the myriad of possibilities available to you for cosmetic dental change. But the biggest part is not just how your smile looks, it's how you feel when you show it… Read Article
The Impact of a Smile Makeover
Americans are catching on to the emotional and social importance of a healthy, beautiful smile, and they're seeking out ways to improve their smiles. Learn why and what a change could mean for you… Read Article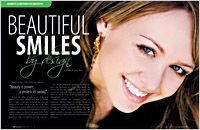 Beautiful Smiles by Design
The first in a series of articles dedicated to the "art and science" of designing a more appealing smile. One of the country's foremost leaders in cosmetic dentistry discusses how you and your dentist partner to create a great new look… Read Article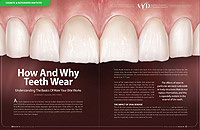 How And Why Teeth Wear
Are teeth supposed to last for a lifetime? And are humans designed to live for up to a hundred years? Given all the current improvements in the areas of medicine and health, both general and oral, people are not only living longer, but they are also keeping their teeth longer. This article will provide an overview of the "oral system" and one of its more common and important occurrences, tooth wear… Read Article
Schedule a Cosmetic Dentistry Consultation
Enjoy the smile you've always wanted with the right, custom-designed cosmetic dentistry treatment! To find out which option is right for you, schedule a cosmetic dentistry consultation by calling our dental office in Butler, PA today at (724) 285-4153. Our Smile Certified experts happily serve patients from Butler, Cranberry Township, Mars, Pittsburgh, Butler County, and all surrounding communities.