Porcelain Veneers
QUICK, COMPLETE SMILE MAKEOVERS WITH PORCELAIN VENEERS
A large number of cosmetic dental concerns can be corrected with porcelain veneers—even if more than one issue occurs at the same time. Veneers are thin, hand-crafted shells of porcelain that are carefully designed to mimic the front surfaces of your natural, healthy teeth. Once they've been permanently placed, the porcelain shells can completely transform your smile's appearance.
The Making of Porcelain Veneers
To prepare your teeth for veneer placement, Dr. Keelan will carefully buff away a minimal amount of tooth enamel (usually less than 0.5 mm) to ensure a comfortable, natural fit. Careful measurements and a mold of your prepared teeth will be sent to a trusted dental laboratory, where a skilled technician will hand-craft each veneer according to your unique specifications. Aside from being tinted to match the color and shade of your teeth, the porcelain is also semi-translucent, like tooth enamel. When layered, the material achieves the same light-reflecting abilities as a natural tooth's outer layer.
The Benefits
Their lifelike appearance is one of the main advantages of porcelain veneers, but their benefits also include the ability to consolidate your smile makeover into a single procedure. Their unique nature allows veneers to correct a multitude of cosmetic issues, including;
One or more teeth that are chipped, or whose enamel is cracked (craze lines)
A diastema, or excessive space between two teeth
"Black triangles" of space that can appear between two teeth
Teeth that seem too small compared to those around it
Slightly crooked teeth (unless Invisalign® or orthodontic braces are necessary)
Once you have received your porcelain veneers, caring for them simply requires maintaining good hygiene with twice-daily brushing and flossing (preferably with a non-abrasive toothpaste), as well as regular dental checkups and cleanings.
---
I was lucky enough to visit this office today, and there's not enough kind words to say about the staff here. From the moment I walked in (and I was super nervous, as most people are when they have to go to the dentist) and those nerves very quickly calmed down. I HIGHLY suggest coming here if you're in search of a dentist.
– Erin S.

---
Related Porcelain Veneer Articles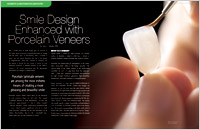 Smile Design Enhanced with Porcelain Veneers
In part two of the series on Smile Design, Dear Doctor takes an in-depth look at Porcelain Veneers, a superior yet minimally invasive technique for smile enhancement. We'll explain not only when they're appropriate, but also when they're not… Read Article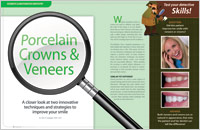 Porcelain Crowns & Veneers
A closer look at two innovative techniques and strategies to improve your smile. In many instances these two restorative techniques can produce nearly identical esthetic results, even though they are structurally different… Read Article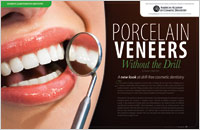 Porcelain Veneers – Without A Drill
No drilling — reality or ridiculous? A no-drill technique requires a second look, as new materials and concepts have created new esthetic possibilities. Reactions and opinions among dentists have ranged from absolute disbelief to moderate acceptance. This article gives hope and reasons for patients to get excited about this conservative drill-free cosmetic technique… Read Article
Makeover Your Smile with Porcelain Veneers
If your smile needs a makeover, then make it minimally invasive with one or more custom-crafted porcelain veneers! Find out if veneers are right for you by calling our dental office in Butler, PA today at (724) 285-4153. Our Smile Certified experts happily serve patients from Butler, Cranberry Township, Mars, Pittsburgh, Butler County, and all surrounding communities.