Tooth-Colored Fillings
CAVITY TREATMENT WITH TOOTH-COLORED FILLINGS
A cavity is a hole in your tooth that forms from tooth decay. When dental plaque is left on your teeth long enough, the bacteria within it produce acids that weaken teeth's outer layer (called enamel). Eventually, bacteria can slip past weakened enamel and infect the main body of the tooth, leaving a cavity as tooth decay spreads. For mild to moderate cavities, Dr. Keelan can restore your tooth with a filling made from tooth colored composite resin. If you develop tooth decay, then ask us about the advantages of tooth-colored fillings over metal amalgam ones.
The Purpose of a Tooth Filling
As the name suggests, a tooth filling fills the cavity to restore your tooth's strength. After thoroughly cleaning the infected area, Dr. Keelan will bond the composite resin to seal the tooth. Made from acrylic and finely-ground quartz-like particles, the resin conforms precisely to a cavity's shape and will blend in naturally with your tooth's appearance. Once the filling is hardened with a special light, it will strengthen the tooth as well as protect its exposed center from further infection and decay.
The Benefits of Tooth-Colored Resin
Appearance is not the only advantage that composite resin holds over metal amalgam fillings. Unlike metal, the resin can be more securely bonded to your tooth to create a more effective seal against oral bacteria. Also unlike metal, composite resin does not change shape in extreme temperatures, and therefore creates less risk of tooth damage and reinfection.
---
ABSOLUTELY AMAZING EXPERIENCE! I did not feel like a number; everyone was very professional! State of the Art Facility and the staff gave me an AMAZING TOUR!!! I am so happy to have found Keelan Dental! Already scheduled a follow up!! I had not been to the dentist in a few years and I knew I had some problems but they never felt bad or "scolded" me… Instead made me feel like a celebrity and talked about how to get me to a place to feel comfortable and confident in my smile and teeth health! YAY! THANK YOU KEELAN DENTAL!! So happy to be a new patient!
– Abbey S.

---
Related Fillings Articles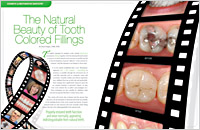 The Natural Beauty of Tooth Colored Fillings
The public's demand for aesthetic tooth colored (metal free) restorations (fillings) together with the dental profession's desire to preserve as much natural tooth structure as possible, has led to the development of special "adhesive" tooth colored restorations… Read Article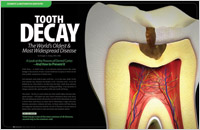 What is Tooth Decay? – And How to Prevent It!
Tooth Decay is an infection, and many people don't realize that it is preventable. This article is the first in a series about tooth decay, perhaps the number one reason children and adults lose teeth during their lifetime. Explore the causes of tooth decay, its prevention and the relationship to bacteria, sugars and acids… Read Article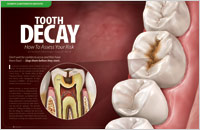 Tooth Decay – How To Assess Your Risk
Don't wait for cavities to occur and then have them fixed — stop them before they start. Modern dentistry is moving towards an approach to managing tooth decay that is evidence-based — on years of accumulated, systematic, and valid scientific research. This article discusses what you need to know to assess your risk and change the conditions that lead to decay… Read Article
Durable and Lifelike Tooth-Colored Fillings
Forget about your cavity for good by treating it with a durable, highly lifelike tooth-colored filling. To learn more about their benefits, call our dental office in Butler, PA today at (724) 285-4153. Our Smile Certified experts happily serve patients from Butler, Cranberry Township, Mars, Pittsburgh, Butler County, and all surrounding communities.