Extractions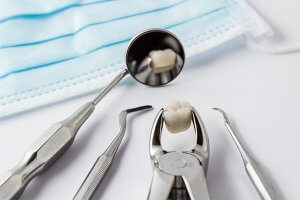 ARE TOOTH EXTRACTIONS NECESSARY?
Saying goodbye is difficult, but it when it comes to your teeth, it may sometimes be necessary. Tooth extraction is a last-resort effort when a tooth is damaged or infected enough to threaten your oral health. Though it is typically not a complicated procedure, the thought of extracting a tooth is seldom pleasing. To help ease your anxiety in addition to administering local anesthesia to numb the tooth, we can offer a choice of dental sedation methods.
The Reasons for Tooth Extraction
The main focus of professional dental treatment is preserving your healthy, beautiful, natural smile. At first thought, tooth extraction may seem contradictory to that goal. Yet, there are several ways in which a tooth can become a liability to your oral health. For instance, if tooth decay spreads through your tooth's root canals, if the tooth has lost bone support due to advanced gum disease, or if the tooth suffers structural damage that is too extensive to fix. In such cases, removing the tooth can save the rest of your smile from damage and allow us to restore your oral health more effectively.
Preserve Your Oral Health Afterwards
Depending on the tooth that is extracted and the reason for extracting it, your next step should be replacing the extracted tooth so that the loss doesn't overly affect your long-term dental health. If you are faced with the need for tooth extraction, be sure to speak with Dr. Keelan about your options for rebuilding your smile afterwards, preferably with a dental implant-supported crown.
---
Had a great first appointment. The staff and Dr. Keelan were extremely friendly. The office was cozy. They were on time and helped me with my problem. I am kind of as baby about needles but it was completely painless. My tooth looks amazing. Scheduling an appointment is very easy and I would recommend this office too anyone.
– Tiny S.

---
Learn More About Tooth Extraction and Replacement
Eliminate threats to your oral health with tooth extraction, then restore your bite's function and your excellent oral health by replacing the lost tooth (preferably with a dental implant). To find out if tooth extraction is necessary, call our dental office in Butler, PA today at (724) 285-4153. Our Smile Certified experts happily serve patients from Butler, Cranberry Township, Mars, Pittsburgh, Butler County, and all surrounding communities.