Dentures
A BRAND NEW SMILE WITH COMPLETE OR PARTIAL DENTURES
Like dental bridges, dentures restore your smile by replacing missing teeth. However, dentures address more severe cases of tooth loss than dental bridges are able to. Traditional dentures consist of entire rows of replacement teeth that are situated on your upper and/or lower dental ridges. If you've lost many, but not all of your teeth, then Dr. Keelan might suggest a partial denture that can fit around your remaining teeth to replace those you've lost.
Complete Dentures
What many people know simply as "dentures" are technically considered complete dentures and are designed to address dental ridges that are completely without teeth. The highly esthetic and durable replacement teeth are molded into a custom-designed, comfortable acrylic base that matches the color of your gums.
The upper denture is typically held securely in place by the suction created by its intimate fit against the concave roof of your mouth.  The lower denture will rarely fit as securely as the upper denture since it is not possible to attain the same suction.  Most patients learn to adapt well to the lower denture, but more and more often, they elect to secure the denture with dental implants.
What Are Implant Dentures?
Partial and complete dentures can often benefit from the support of dental implants. When coupled with a dental crown, a dental implant can offer the most realistic replacement for a single lost tooth. The same is true when a series of implants are inserted and used to support a larger appliance, including partial and complete dentures.
Partial Dentures
Like complete dentures, partial dentures are removable appliances designed to replace multiple missing teeth.  In the case of a partial, we utilize the remaining teeth to secure and stabilize the denture.  They can be a good alternative for patients who cannot afford a bridge or implants to replace missing teeth. The appliances are also similar to complete dentures in that they partially span your dental ridge. However, your replacement teeth will be strategically placed to fill the gaps while fitting around the teeth that still remain.
---
So happy to find a new dentist! I felt like I was really listened to and was made to feel very comfortable. Thank you!
– Susan G.

---
Related Denture Articles
Removable Full Dentures
Complete tooth loss can cause a host of health problems, including malnutrition and bone loss. Though fixed bridgework may hold a higher place of reverence when it comes to replacing an entire set of teeth, removable full dentures can provide an elegant solution that is significantly more affordable… Read Article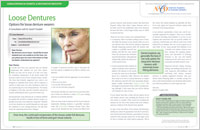 Loose Dentures
Loose dentures are a common problem for people who are full or complete denture wearers, especially if you have worn them for a long time. Whether or not new dentures are needed depends not only upon the condition of your existing dentures, but also how much the supporting tissues have changed… Read Article
Make Your Smile New Again with a Custom Denture
Give your smile its full function and youthful appearance back with a custom-made complete or partial denture. To learn more, or to find out if you qualify for implant-supported dentures, call our dental office in Butler, PA today at (724) 285-4153. Our Smile Certified experts happily serve patients from Butler, Cranberry Township, Mars, Pittsburgh, Butler County, and all surrounding communities.