Dental Implants
LIFELIKE REPLACEMENT TEETH WITH DENTAL IMPLANTS
Contrary to popular belief, tooth loss is not an age-related problem. It can affect patients of all ages. Nevertheless, when tooth loss does happen, one of the best ways to restore your smile's appearance and function may be with dental implants. With dental implants, replacement teeth can achieve a new level of restoration, allowing us to replace the roots of the teeth you've lost as well as their visual crowns (top portions).
How Dental Implants Work
A dental implant is a small, root-shaped titanium post that is utilized to anchor a dental crown, partial, or complete denture in place. The implant is designed to stabilize your replacement teeth so they remain sturdy as you bite, chew, and speak. When the implants are stimulated by your bite, they can also promote a steady flow of nutrients to the jawbone to keep it strong and healthy in the long run.
FAQs About Dental Implants
Am I a good candidate for dental implants?
To be a good candidate for dental implants there must be enough bone to support the posts, and your mouth must be free of gum disease and tooth decay. To determine if you qualify, Dr. Keelan will perform a thorough examination including a 3-Dimensional ConeBeam radiograph, and if necessary, suggest treatment to correct existing issues before recommending implant placement.
Can I replace an existing bridge/denture with dental implants?
The good news about dental implants is that you may still qualify for them even if you already rely on a dental bridge or denture. If you want to improve the look, function, and feel of your replacement tooth/teeth, then speak with Dr. Keelan about upgrading to implant-supported restoration.
How do I care for an implant restoration?
Another way implants mimic your natural teeth is the way in which you care for them. Every day, carefully brush and floss the surfaces of your natural and replacement teeth, particularly along the gum line, and attend a checkup and cleaning appointment as often as Dr. Keelan recommends.
---
Had a wonderful experience at this office. Everyone was patient and courteous. I would recommend this office to everyone.
– Tammy S.

---
Related Bone Grafting Articles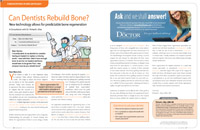 Can Dentists Rebuild Bone? Yes they can! It is very important to maintain bone volume following removal of a tooth so that dental implants remain a viable option for tooth replacement. This is easily accomplished with today's routine bone-grafting techniques… Read Article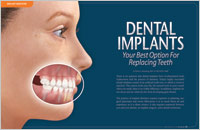 Dental Implants – Your Third Set of Teeth A discovery fifty years ago paved the way for one of dentistry's most exciting, natural looking and successful tooth replacement systems. Learn how dental implants might just possibly change your life… Read Article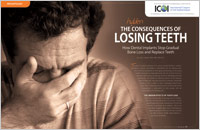 The Hidden Consequences of Losing Teeth For those missing even one tooth, an unsightly gap is actually the least significant problem. What's of far greater concern is the bone loss that inevitably follows tooth loss. Dental implants fused to the jawbone can preserve bone, improve function and enhance psychological well-being. Learn how implants serve both as anchors to support replacement teeth, and preserve bone as one of the better preventive maintenance procedures in dentistry… Read Article
Find Out if You Quality for Dental Implants
Enjoy a brand new smile and improved long-term oral health by replacing your lost teeth with one or more dental implants. To find out if you qualify for implant placement, call our dental office in Butler, PA today at (724) 285-4153. Our Smile Certified experts happily serve patients from Butler, Cranberry Township, Mars, Pittsburgh, Butler County, and all surrounding communities.