Dental Bridges
DENTAL BRIDGES—REPLACING ONE OR A FEW TEETH
A dental bridge is designed to replace a lost tooth, or up to three lost teeth in a row, to close the gap in your smile. Placing a dental bridge not only restores your smile's beauty, but also its ability to bite and chew, and to enunciate your words clearly. If you've lost one or more teeth, then learn if a dental bridge is the right replacement option by speaking with Dr. Keelan at your earliest convenience.
How to Build a Dental Bridge
Today, dental bridges are often crafted from dental porcelain or zirconia and come in a variety of shapes and sizes, depending on how many teeth you've lost. A conventional bridge consists of an appropriate number of lifelike replacement teeth (called pontics) situated between two equally lifelike dental crowns. The crowns are affixed to the teeth on either side of the gap (abutment teeth), which are modified to support the crowns and dental bridge.
In some cases, Dr. Keelan may suggest replacing your lost tooth or teeth with a dental implant-supported crown or partial denture. The implants are inserted underneath your gums and support your replacement teeth the way roots support your natural teeth. With dental implants, you can avoid having to modify healthy teeth to carry a dental bridge.
The Benefits of Dental Bridges
The benefits of replacing lost teeth extend beyond your smile's appearance. Closing the gap in your smile helps prevent your remaining teeth from shifting towards the empty space. Having a full smile means you can chew properly, enunciate clearly, and smile confidently once again.
---
Thank you, thank you, thank you – I've been avoiding the Dentist on/off my entire lifetime; we recently moved to the area and I stumbled upon your VERY professional and informative website – then had various communications with your front office and finally came in for an exam last night – every single person was AMAZING! I'm so happy we found Keelan! Although I need some work (due to neglect); I'm actually looking forward to my next appointment. Thank you!
– Lisa G.

---
Related Bridgework Articles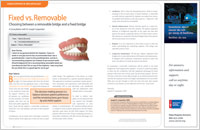 Fixed vs. Removable
For those patients who have lost all their teeth, but have not lost significant bone, a fixed bridge (permanent non-removable teeth) may be the treatment of choice since the new bridge is not needed for facial and lip support. However, not all patients are candidates for this treatment… Read Article
Implants vs. Bridgework
Considerations to help you decide what is right for you. However, a discussion with your dentist is necessary to discuss your specific situation. Please see your dentist to review all the risks, benefits and alternatives to determine which option is best for you… Read Article
Make Your Smile Whole Again with a Dental Bridge
Don't let tooth loss compound your dental health; replace your lost tooth/teeth with a custom-made dental bridge! To learn more, schedule a consultation by calling our dental office in Butler, PA today at (724) 285-4153. Our Smile Certified experts happily serve patients from Butler, Cranberry Township, Mars, Pittsburgh, Butler County, and all surrounding communities.