Full and Partial Dental Crowns
COMPLETE AND PARTIAL DENTAL CROWNS
A dental crown is custom-made to replicate a specific tooth, and is then placed over the tooth's entire crown, or top portion. Often made from the same advanced porcelain that makes veneers so lifelike, your dental crown will be indistinguishable from the teeth around it. If your tooth is cracked or broken, needs cosmetic improvement, or needs an old metal crown replaced, then Dr. Keelan can place a porcelain dental crown to fix it. For less severe issues, we may recommend an inlay or only which is also referred to as a partial crown.
What Are Dental Crowns Made Of?
Since a dental crown's purposes include protecting the tooth that it covers, it must be made to withstand your bite's pressure as well as look natural. Depending on your preferences and the location of the tooth, your dental crown could be crafted from metal, porcelain-fused-to-metal (PFM), all porcelain, or zirconia.
The Many Uses of Dental Crowns
Restoring tooth damage is one of the most common uses of dental crowns, but because of their realistic appearance, they are also frequently used for cosmetic purposes. For any of the following issues (to name just a few), a dental crown can be the most suitable option;
Significantly chipped tooth
A broken tooth (meaning a piece has separated from the main structure)
A severely discolored tooth
A slightly misshapen tooth
A tooth that may seem too small
To replace lost teeth, dental crowns are often utilized to anchor a dental bridge, or can be placed on top of dental implants that are secured underneath your gums.
When Inlays and Onlays Are Called For
An inlay or onlay is similar to a dental crown in its purpose, which is to restore a damaged or infected tooth. However, inlays and onlays do not cover the entire crown of a tooth, but rather a part of it.
The difference between an inlay and an onlay is in the area that it covers. An inlay rests between the cusps on the chewing surface of a tooth. An onlay can extend over the cusps and the sides of the tooth to restore a larger area. Both inlays and onlays are typically made from dental porcelain or zirconia for the most cosmetically-pleasing results.
---
My visit was just an outstanding example of how a visit to the dentist should be. Great staff, great dentist! No need to put off getting your trip to the dentist scheduled, no reason to fear the experience. Great job!
– Fred E.

---
Related Dental Crown Articles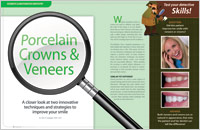 Porcelain Crowns & Veneers
A closer look at two innovative techniques and strategies to improve your smile. In many instances these two restorative techniques can produce nearly identical esthetic results, even though they are structurally different… Read Article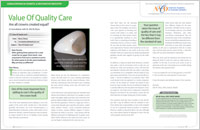 Value Of Quality Care
Are all crowns created equal? One of the most important factors adding to cost is the quality of the crown itself. Another fact is that dentists generally sub-contract out crown manufacturing to a dental laboratory technician, as they rarely make crowns themselves… Read Article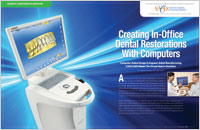 Creating In-Office Dental Restorations With Computers
Once upon a time, dentists – and patients – needed to wait weeks for a dental laboratory to make crowns and other dental restorations. Now, with an exciting digital technology known as Computer-Aided Design/Computer-Aided Manufacturing (CAD/CAM), some dentists are fabricating high-quality restorations themselves right in their own offices – in minutes! Read Article
Find the Dental Crown that's Right for You
Fix and improve your smile with a custom-made full or partial dental crown. You may even be able to receive your crown all in a single day! To learn more, call our dental office in Butler, PA today at (724) 285-4153. Our Smile Certified experts happily serve patients from Butler, Cranberry Township, Mars, Pittsburgh, Butler County, and all surrounding communities.