Children's Dentistry
THE LIFELONG BENEFITS OF CHILDREN'S DENTISTRY
Your children will carry what you teach them about hygiene for the rest of their lives. Therefore, instilling good habits early on is one of the most important things you can do for their long-term dental health. Besides brushing and flossing, regular dental checkups and cleanings are also vital, and Dr. Keelan and Dr. Dillner and our staff are experienced at making children feel more comfortable about their routine visits. We can check to ensure your children's teeth remain free of issues like cavities and malocclusion (crooked teeth), as well as boost their dental health with preventive dental care.
Dental Care Your Children Will Enjoy
The first goal of children's dentistry, aside from education, is helping your young child grow accustomed to visiting our office. As a father of four, Dr. Keelan and Dr. Dillner understands the anxiety that children may exhibit when introduced to a new environment, surrounded by new faces for a purpose that they may not fully understand. Before performing any examinations, we will go the extra mile to make sure your child is comfortable and at ease in the new surroundings.
What is Dentistry for Children?
Once your child has grown familiar with visiting our office, you can begin bringing him/her for regular dental checkups and cleanings, typically every six months. During the visits, Dr. Keelan and Dr. Dillner will ensure that your children's teeth remain strong and healthy, and that they are growing and developing at proper angles. To enhance their dental health, we may recommend fluoride treatments, which promote the development of strong tooth enamel (the protective outer layer of teeth).
We can also apply dental sealants to teeth that may be prone to cavities, such as molars at the back of your child's mouth. The sealant is a thin acrylic layer that is applied to the tooth's chewing surface, blocking food particles and plaque from gathering in hard-to-reach places between the cusps. Dental sealants are biodegradable, and will eventually dissolve, so there is no need to have them removed.
---
Our family has gone to Keelan Dental for many years, they are GREAT! The staff is very warm and welcoming, they will answer all your questions and help with any issues you have. They are great with kids too. I have recommended Keelan Dental to many friends.
– David P.

---
Related Children's Dentistry Articles
Dentistry and Oral Health for Children
As part of our special section on oral health topics affecting kids, Dear Doctor brings you this wide-ranging overview of milestones and transitions in your child's dental development. Learn how to protect your children from tooth decay, dental injuries, and unhealthy habits while getting them started on the road to a lifetime of oral health and general well-being… Read Article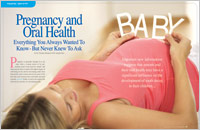 Pregnancy & Oral Health
Pregnancy is generally thought of as the time when a woman strives to be particularly aware of the need for "health". Many women though may not be aware of the link that exists between their oral health and their systemic (general) health, as well as the impact that many other factors can have on a developing child. Learn about how to care for yourself and your baby… Read Article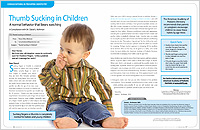 Thumb Sucking in Children
A normal behavior that bears watching… Read Article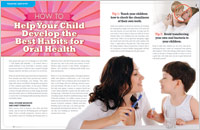 How to Help Your Child Develop the Best Habits for Oral Health
Proper oral health habits are easy to learn – and lead to behaviors that result in life-long dental health. And the time to begin is as soon as your child's first baby teeth appear. From tooth-brushing for your toddler to helping your teenager stay away from tobacco, Dear Doctor offers the most important tips for healthy habit formation through childhood and beyond… Read Article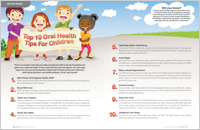 Top 10 Oral Health Tips For Children
There's no need to wait until your baby actually has teeth to lay the foundations for good oral or general health. In fact, good nutrition and oral hygiene can start right away. It is up to you to develop the routines that will help protect your child from tooth decay and other oral health problems. So let's get started… Read Article
Schedule a Dental Visit for Your Child/Children
Show your children the path to a lifetime of beautiful, healthy smile by making dentistry a regular part of their oral health and hygiene routine. To schedule an appointment or initial visit, call our dental office in Butler, PA today at (724) 285-4153. Our Smile Certified experts happily serve patients from Butler, Cranberry Township, Mars, Pittsburgh, Butler County, and all surrounding communities.