Checkups and Cleanings
HOW CHECKUPS AND CLEANINGS KEEP YOUR SMILE HEALTHY
You may already know that brushing and flossing every day is the most important thing you can do for your teeth. However, by itself, the routine isn't enough to keep your smile consistently healthy. Dr. Keelan's trained eye and your hygienist's professional hygiene instruments are as vital as your toothbrush, toothpaste, and floss. During your checkups and cleanings, we can make sure that the effort you put into your daily hygiene pays off by checking for signs of trouble and professionally teeth-cleaning and polishing.
What to Expect
Dental Checkup
A dental checkup lets us take a closer look into your oral health to carefully check for changes in your teeth, gums, and oral tissues that could spell trouble. Using digital X-rays, intraoral cameras, and CT scans (if necessary), we can capture highly-detailed, high-resolution 3D images for more accurate examinations. The diagnostic images also help us see and analyze your bite's alignment. We'll also perform an oral cancer screening at each checkup to detect lumps, ulcers, or other anomalies before they develop further.
Dental Cleaning
Made from a mixture of saliva, food particles, and oral bacteria, plaque calcifies if not removed promptly, and once it becomes tartar, your toothbrush can no longer remove it. Its stubbornness makes tartar the main cause of most oral health issues, and regular cleanings allow us to thoroughly remove it to reduce your risks of tooth decay, gum disease, tooth abscesses (painful pockets of infection), halitosis (persistent bad breath), and more.
---
Was I just at the spa? Nope. I was at Keelan Dental getting my teeth cleaned! I have never had such a wonderful experience at any dentist. I am actually looking forward to my next dentist appointment! The kindness and professionalism is off the charts. Thank you Keelan Dental!
– Mary D.

---
Related Periodontal (Gum) Disease Articles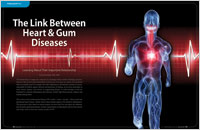 The Link Between Heart & Gum Diseases
Inflammation has emerged as a factor that is involved in the process of Cardiovascular Disease (CVD), which commonly results in heart attacks and strokes. While the precise role inflammation plays in causing chronic CVD remains an area of intense current investigation, much more is now known. The good news is that, based on current research, we know that if we can reduce the inflammation caused by periodontal disease, we can reduce the risk for heart attacks and strokes… Read Article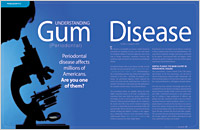 Understanding Gum (Periodontal) Disease
Have your gums ever bled when you brushed or flossed? This most commonly overlooked simple sign may be the start of silent (periodontal) disease leading to tooth loss. Learn what you can do to prevent this problem and keep your teeth for life… Read Article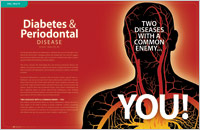 Diabetes & Periodontal Disease
Diabetes and periodontal disease are chronic inflammatory diseases that impact the health of millions of people. What you may not know is that diabetes and periodontal disease can adversely affect each other… Read Article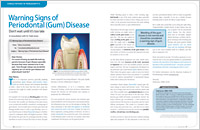 Warning Signs of Periodontal (Gum) Disease
This article provides the warning signs of periodontal (gum) disease. Don't wait until it's too late… Read Article
Schedule Your Next Checkup and Cleaning
Make regularly scheduled checkups and cleanings an important part of your hygiene routine, and significantly improve your chances of preventing most common dental issues. To schedule your next appointment, call our dental office in Butler, PA today at (724) 285-4153. Our Smile Certified experts happily serve patients from Butler, Cranberry Township, Mars, Pittsburgh, Butler County, and all surrounding communities.