Bonding and Contouring
MINOR CHANGES, MAJOR RESULTS WITH BONDING AND CONTOURING
Dental bonding and contouring are minimally-invasive cosmetic dental procedures, often performed together, that are designed to achieve dramatic results through minor changes. Because they involve very little manipulation to your tooth structure, bonding and contouring may be preferred over more extensive enhancements, like dental crowns or porcelain veneers.
The Secrets of Tooth Bonding
Bonding involves the application, or bonding, of composite resin to the outer surface of a tooth. The resin can be tinted to your tooth's unique color and shade, and by bonding it to your tooth, Dr. Keelan can correct chipped or jagged tooth edges, localized tooth stains, excessive gaps between teeth, and more. After bonding the resin, Dr. Keelan will carefully sculpt the material to match your tooth's ideal contour, then polish it to blend in with the rest of your smile.
The Art of Tooth Contouring
Contrary to bonding, dental contouring describes the artful sculpting of a tooth's outer layers. For instance, if a tooth has a jagged edge, then contouring can smooth it to better fit in with the teeth around it, and to prevent the edge from scratching your softer oral tissues. If more than one tooth needs adjustment, then bonding and contouring can be performed together to reshape your smile in a conservative manner.
---
My family and I started seeing Dr. Keelan several years ago. His standard of care is top notch. He uses state-of-the-art technology, which is important to me because I know that my family and I are receiving the latest developments in dental care. For example, if you need a crown, he custom designs it right there in his office, with no need to wait two weeks with a temporary to have it made somewhere else. Plus, the crowns he makes are beautiful, look like real teeth, and fit perfectly. In addition, his office staff, dental assistants and hygienists are by far the most professional and friendly staff I have ever encountered in a medical setting. They are excellent communicators and work well with children, too. But above all, Dr. Keelan has impressed me with his talent and precision in his dental work. No matter what the procedure, he does it both skillfully and quickly, minimizing any discomfort. The Butler community is lucky to have a world-class dentist right here in town. I highly recommend Dr. Keelan.
– Lynne M.

---
Related Tooth Bonding Articles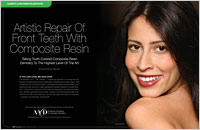 Artistic Repair Of Front Teeth With Composite Resin
Strange as it may seem, it's about creating invisible art – recreating teeth that look totally natural so that no one can tell the difference! It involves a detailed understanding of natural tooth composition and form, choosing the right composite resin to rebuild and restore lost tooth structure, and understanding light and color. Oh, and a dental artist who can put them all together… Read Article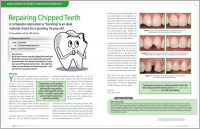 Repairing Chipped Teeth
A composite restoration or "bonding" is an ideal material choice for a growing 16-year-old. Composites can be made in a wide range of tooth colors allowing for near perfect color matching with existing teeth – in artistic hands they can be made to look very natural and lifelike… Read Article
Ask Your Dentist About Bonding and Contouring
If you want a more attractive smile,but don't want to undergo extensive dental treatment, then find out if cosmetic bonding and/or contouring are right for you! To schedule a consultation, call our dental office in Butler, PA today at (724) 285-4153. Our Smile Certified experts happily serve patients from Butler, Cranberry Township, Mars, Pittsburgh, Butler County, and all surrounding communities.